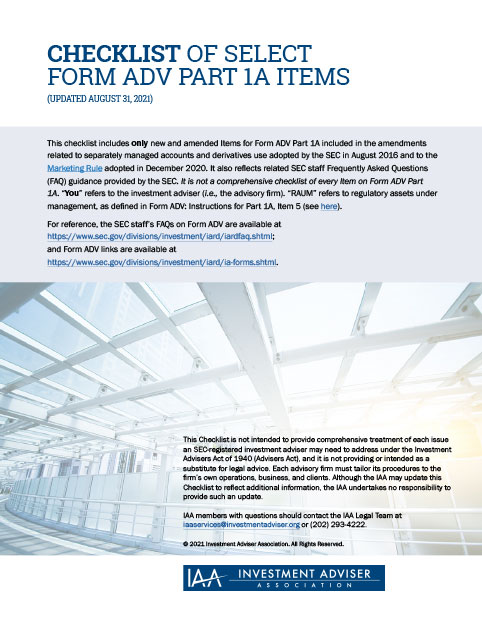 IAA Form ADV Part 1A Checklist
---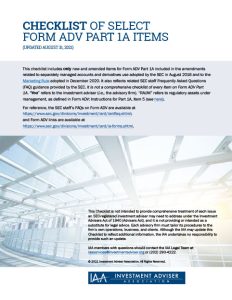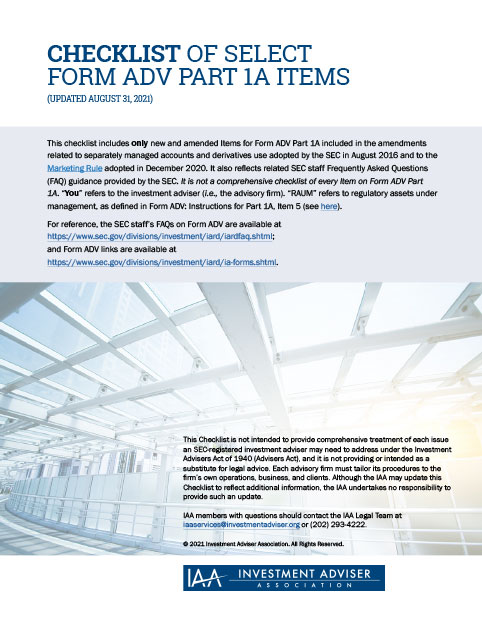 View or Download the Checklist
This checklist includes only new and amended Items for Form ADV Part 1A included in the amendments related to separately managed accounts and derivatives use adopted by the SEC in August 2016 and to the Marketing Rule adopted in December 2020. It also reflects related SEC staff Frequently Asked Questions (FAQ) guidance provided by the SEC. It is not a comprehensive checklist of every Item on Form ADV Part 1A. "You" refers to the investment adviser (i.e., the advisory firm). "RAUM" refers to regulatory assets under management, as defined in Form ADV: Instructions for Part 1A, Item 5 (see here).
For reference, the SEC staff's FAQs on Form ADV are available at https://www.sec.gov/divisions/investment/iard/iardfaq.shtml; and Form ADV links are available at https://www.sec.gov/divisions/investment/iard/ia-forms.shtml.
This Checklist is not intended to provide comprehensive treatment of each issue an SEC-registered investment adviser may need to address under the Investment Advisers Act of 1940 (Advisers Act), and it is not providing or intended as a substitute for legal advice. Each advisory firm must tailor its procedures to the firm's own operations, business, and clients. Although the IAA may update this Checklist to reflect additional information, the IAA undertakes no responsibility to provide such an update.
IAA members with questions should contact the IAA Legal Team at iaaservices@investmentadviser.org or (202) 293-4222.