Active-Passive Debate Lights Up Twitter
May 10, 2022
---
Twitter is abuzz with comments about active and passive management with some very high-profile names engaging. Venture capitalist Marc Andreessen (@pmarca), Tesla & SpaceX CEO Elon Musk (@elonmusk), and Ark Invest CEO Cathie Wood (@CathieDWood), all vouched for the benefits of active management.
The debate highlights the latest example of the media and high-profile voices amplifying the false dichotomy that exists between active and passive. In fact, research has shown that the best portfolios combine both active and passive and that it's not a horse race or an either/or proposition.
After a series of tweets from Andreessen and Musk, Wood — a prominent active manager herself — got into the action, tweeting that passive investing caused investors to miss out on a 400-fold gain in Tesla stock due to Tesla's late entry into the S&P 500.  She writes that according to Ark Invest research, passive investing is "short" innovation and will result in missed opportunities.
The tweet prompted a reply from Musk about another key benefit of active management — its importance in improving market efficiency.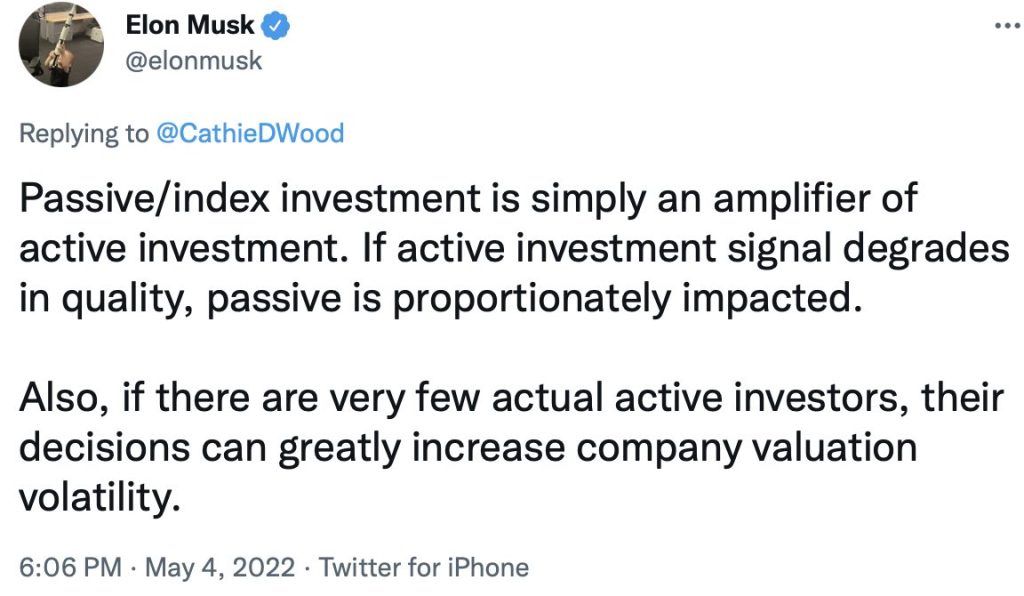 The discussion was picked up across the financial media with stories from Bloomberg, CNBC, Fortune and others.
Bloomberg highlighted one of the Council's key points — writing that there is an active element to nearly all passive strategies — "from writing the rules of every index to deciding how each fund will run."